Congratulations to our 2018 Scholarship Recipient, Jack Murphy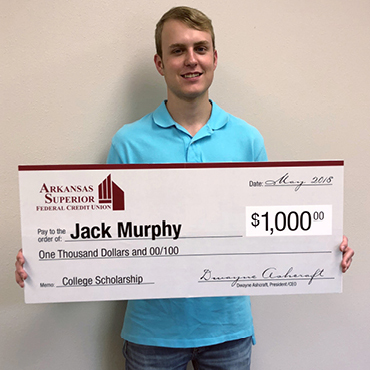 Arkansas Superior Federal Credit Union is honored to award Jack Murphy, a recent graduate of McGehee High School, with a $1,000 college scholarship. We wish this bright young man the best of luck as he begins his college career at the University of Arkansas this fall. Over the past seven years, ASFCU has provided $8,000 in college scholarships to local students. We're proud to continue this tradition of supporting the youth in our community!
ASFCU is proud to support our community
Congratulations to all of the ASFCU scholarship recipients.

ASFCU Scholarship Recipients
ASFCU News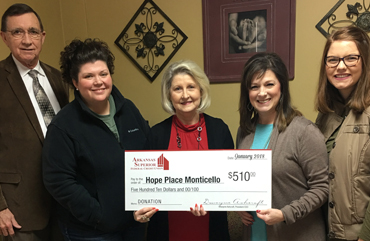 Our "Change Your Checking for Good" Campaign was a success!
Last quarter, Arkansas Superior Federal Credit Union pledged to donate $10 to a local charity for every new checking account opened. Thanks to our wonderful members who opened new checking accounts, we were able to donate over $1,000 to the Hope Place charities in Monticello and Warren.

Thank you all for making this donation possible!

Read the "Checking for Good" League Article
Tips from ASFCU